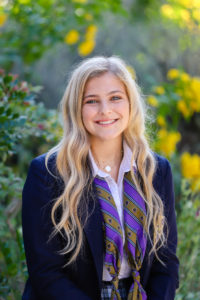 What is the most influential book you have read besides the Bible? Why?
The most influential book I have read besides the Bible would have to be the Chronicles of Narnia book series. I loved reading those books in grammar school! I know they were a requirement but reading them never felt like homework. I loved the way Christianity was integrated throughout the book and since we read them at such a young age, they made a strong impact on my faith.
What is your favorite or funniest moment at Geneva?
My favorite moment at Geneva so far would have to be the snow day where almost all of the rhetoric school students participated in one big snowball fight out on the football field.
What will you miss most when you leave Geneva?
I will miss my class the most. As someone who has attended Geneva since kindergarten, it is so surreal to imagine no longer seeing the people I've known for the majority of my life.
Who has influenced you most while at Geneva, How?
All my teachers have impacted me greatly. They have all taught me the proper work ethic and study habits and even some life skills. I will miss them all dearly.
What does being a Geneva student mean to you? |
Being a Geneva student comes with plenty of responsibilities such as deadlines, dress code, time management, good study habits, and much more. However, being a Geneva student is truly about always setting high standards for yourself and doing the best of your ability to reach those standards.
How would you encourage a Geneva kindergartner to persevere?
I would encourage a kindergartener to never lose hope when failing to reach his or her goals, but to take pride in the fact that they tried their best to reach them.
What about Geneva do you hope never changes?
I hope Geneva never changes the fun trips the students are provided with since not only do we get to personally experience the history we are currently learning; but we also grow closer as a class.