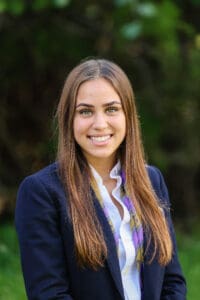 What is the most influential book you have read besides the Bible? Why?
The dullness of everyday life in "The Giver" inspired me to appreciate the freedom I have in our world today, as well as enjoy every experience that is carried within it.
What is your favorite or funniest moment at Geneva?
My most memorable moment at Geneva was when I experienced Induction Day in 8th grade. At the time, I was still fairly new to Geneva, so I was not sure what all I was getting into. When I heard my name called for the house of Milton, I was super pumped and excited. I am so glad that Geneva has house systems. They are so much fun to be a part of and a great way to get to know my fellow peers.
What will you miss most when you leave Geneva?
I will miss the bonds I have made with the faculty. I have loved my time spent in the classroom with every teacher and will miss them greatly.
Who has influenced you most while at Geneva? How?
Mrs. Greenlees has influenced me most during my time at Geneva. She has always been there for me when needed, whether it be for my understanding of a difficult math lesson or a hard day at school. She is so passionate and loves the Lord. She has inspired me to not give up when I do not receive the grade I desire on a test, and congratulates me when my goal is accomplished. She and her power-pony will never be forgotten.
What does being a Geneva student mean to you?
As a Geneva student, I am called to honor God in all that I do, work hard and diligently in everything that I put my mind to, love others, serve my community heartily, and always look out for others in need.
How would you encourage a Geneva kindergartner to persevere in school?
I would encourage a Geneva kindergartner by telling them that the road ahead may not always be easy, but as long as they are to trust in the Lord and give it their all, they will find peace and accomplishment.
What about Geneva do you hope never changes?
I hope that the community and school spirit will never change. Geneva is such a unique school that is unlike the rest. Over my past few years as a Geneva student, I have learned so much and have grown to appreciate all the efforts that go into making Geneva such a special and welcoming place for everyone. I hope Geneva continues to be an environment where students are pushed academically and challenged to grow in their faith.