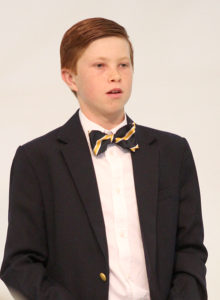 The Eighth Grade Oratory Contest is a highlight of Geneva's Logic School experience. This competition began in 2007 and has become a tradition in which each student memorizes a piece from a selection of historic poems and speeches and delivers his prepared recitation in front of a panel of judges. It is a precursor to the Senior Thesis which students present at the culmination of their final year at Geneva School of Boerne.
After six weeks of practicing and honing their speaking skills, all 54 eighth graders presented either a historical speech or poem in front of their peers, parents, faculty and judges during the preliminary round of Geneva's Eighth Grade Oratory Contest. From this, the top nine speakers advanced to the final round of competition which was held on Monday in Geneva's Lyceum.
First place was awarded to Carson Cooper for his delivery of the poem "Casey at the Bat" by Ernest Lawrence Thayer. Kate Travis was second with her recitation of Martin Luther King Jr.'s speech "I Have Seen the Promised Land." Jacob Martin earned third place for his delivery of a "War Message to Congress" from Franklin Delano Roosevelt. Other finalists were Alexandria Bussey, Cammie Curtis, Bethany De Luna, Esan Fikes, Phillip Gordon and Emily Sisam.