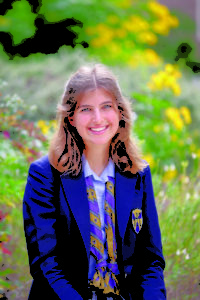 What is the most influential book you have read besides the Bible? Why?
The most influential book I've read other than the Bible is Silence. This book demonstrates how Christians should act, even in the cruelest of situations. Silence was so powerful to me because it made me so grateful that I can have faith in Jesus Christ without the fear of being persecuted. It showed me how great a God we have, and truly kept me wondering whether or not I would sacrifice my life for Jesus. Ultimately, Silence taught me that faith in Jesus is the most crucial thing in life, so as his children we must do anything to spread His word.
What is your favorite or funniest moment at Geneva?
My favorite (and funniest) moment at Geneva was when I was roomed with Abigail, Gracyn and MacKenzie in Greece. We all had laser pointers we bought from street vendors, so at night we went out on the balcony of the hotel and saw our tour guide, Johnny, walking down the sidewalk. I thought that I could try to point the laser on his back so he wouldn't see, but I misaimed and pointed the laser at ground directly in front of him. Immediately he whipped his head around and said, "Who's there?!" All the teachers knew who it was, so we later apologized to Johnny, but it was so funny in the moment.
What will you miss most when you leave Geneva?
When I leave Geneva, the thing I will miss the most is definitely the community. Because I've spent years getting to know all of my classmates, they've become a family to me. Everyone is so sweet and positive, which makes going to school so much better. I also love the Christian atmosphere and how I can freely talk about my faith with anyone at the school, including the teachers.
Who has influenced you most while at Geneva? How?
My Spanish teacher, Mrs. Georgelos, has influenced me most while at Geneva. Ever since my sophomore year of Spanish, I found that I have a passion for it. The style of teaching she implemented was always perfectly understandable and made it fun to learn. Because of the love for Spanish I gained from being in her class, I desire to either include it in my double major, or have it as my minor.
What does being a Geneva student mean to you?
To me, being a Geneva student means working to the best of your ability, and completing every task to the glory of God.
How would you encourage a Geneva kindergartner to persevere in school?
To encourage a kindergartner to persevere in school, I would tell them to always work their hardest by: actually reading the books, finishing homework on time, and studying for the tests, because it really does pay off. By doing this, not only do you receive the grades you deserve, it really helps you in life. I would also advise them to remain confident, even if they receive a bad grade. Confidence is so vital to accomplishing tasks; and with it, you can achieve anything.
What about Geneva do you hope never changes?
The thing that I hope never changes about Geneva is its Christian values and the strong connection between students and teachers.