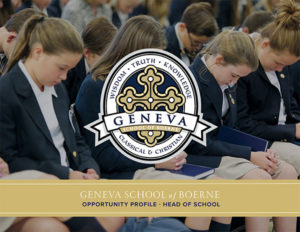 Geneva has begun its search for a new Head of School for the 2021-2022 school year. The Board of Trustees has hired JobfitMatters, a search firm that specializes in strategic Christian leaders, to recruit a permanent Head of School for Geneva to start in June 2021. Click here to view the Head of School Opportunity Profile to see the type of leader Geneva is looking for to serve as the next Head of School; it describes the HOS role and captures Geneva's unique mission, culture and sense of community.
In the meantime, Geneva's longstanding administrative team, faculty and community of parents and students are grateful for the remarkable and stable leadership of Interim Head of School Amy Metzger. Leslie Moeller, a former Geneva Head of School and Board of Trustees Chair, has also been hired as a consultant during this year of transition. Moeller is one of the leading voices in the classical and Christian movement and currently lives with her family on a farm near Charlottesville, Virginia.
"Geneva is in a place of flourishing with Amy's institutional knowledge and background, coupled with her open-mind toward tweaks that will make Geneva an even more exceptional school. We continue to trust God and see His guidance and provision at Geneva during this challenging and uncertain time in our world. The Board continues to have full confidence that God will provide just the right permanent Head of School for the following school year," Geneva Board of Trustees Chair Debbie Ledoux said.
"Geneva looks forward to God's provision of a dynamic and visionary leader who will bring GSB into its third decade with fresh energy and unique ideas. We anticipate that our new Head of School will serve to propel Geneva further into the forefront of the classical and Christian school movement, and create an atmosphere of excitement that will capture the hearts of those already part of our community as well as attract others who will thrive in Geneva's exceptional environment of learning," Brian Donovan, Geneva Board of Trustees and Search Committee member said. The Geneva Search Committee is recruiting candidates to fill the HOS position for the 2021-2022 school year and this document is one of the primary tools in the recruiting process. The Opportunity Profile and associated video can be found by clicking here.
"We're excited to begin sharing this video and Opportunity Profile with prospective Head of School candidates near and far. Please share with your network as well. We appreciate your prayers as we seek the leader for Geneva's future," Ledoux said.