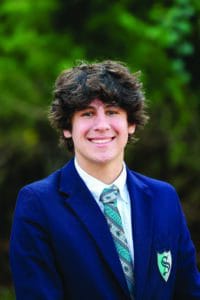 What is the most influential book you have read besides the Bible? Why?
My favorite book is The Chronicles of Narnia: The Lion, the Witch and the Wardrobe because it helped me understand God's love for my friends and me.
What is your favorite or funniest moment at Geneva?
My funniest Geneva moment was when we had a soccer tournament in Houston and were stuck at the Buc-ees in Katy for 5 hours.
What will you miss most when you leave Geneva?
I am going to miss the sports and the good community at Geneva the most.
Who has influenced you most while at Geneva? How?
Mr. Johnson really helped me a lot at school and helped me grow with my faith and with everything in general.
What does being a Geneva student mean to you?
Being a Geneva student means I am able to express my faith freely with my friends and peers.
How would you encourage a Geneva kindergartner to persevere in school?
I would encourage the kindergartner to manage his time and enjoy the time when he is young because it flies by.
What about Geneva do you hope never changes?
I hope that the teachers never stop caring for, loving and creating solid foundations with the students.