What is the most influential book you have read besides the Bible? Why?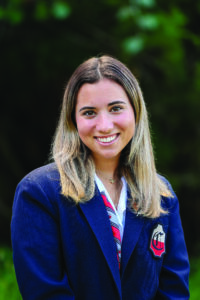 The most influential book I read was hands down, Dante's Inferno. This book just really changed my perspective on having a real, meaningful relationship with God and also just really changed my perspective on how to live my life.
What is your favorite or funniest moment at Geneva?
During ninth grade St. Crispin's Day we were watching all the fun events, and then suddenly our beloved Mrs. Greenlees took a tumble and I know Mr. Harrild and I were both concerned for her, obviously, but we could not retain our laughter.
What will you miss most when you leave Geneva?
I will miss being around the people who helped me grow and become the person I am today. Since being at Geneva since Kindergarten, I've grown up with a lot of my peers and it will be so bittersweet having to say goodbye to them in the spring. They've become more than my classmates, they've become my family.
Who has influenced you most while at Geneva? How?
Definitely Mr. Grover and Mrs. Greenlees. I was able to really connect and bond with these two teachers. They helped me stay motivated in school and pushed me to do my best. I knew I could always rely on them and talk to them.
What does being a Geneva student mean to you?
Being a Geneva student means being able to grow and have a steadfast relationship with the Lord. Being a Geneva Student means staying motivated even when it's hard. Being a Geneva Student to me means building up your classmates and working hard while still having fun within the community.
How would you encourage a Geneva kindergartener to persevere in school?
Set goals for yourself. Don't let yourself fall because it can be challenging, look forward to the reward at the end of the race. Geneva won't be easy, but it will be worth it.
What about Geneva do you hope never changes?
I hope Geneva never changes the relationships built between students and teachers.