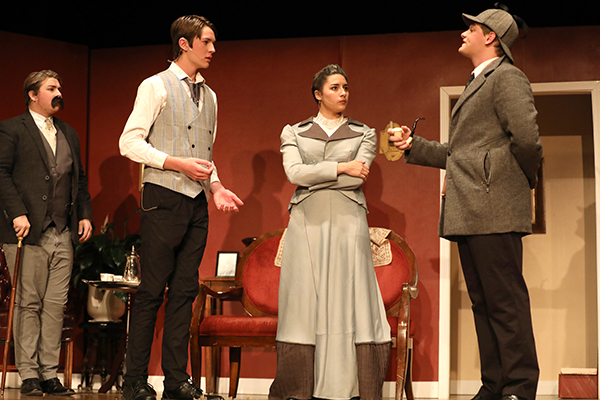 The Geneva Fine Arts Department recently finished its production of The Hound of the Baskervilles, a classic whodunnit play adapted from the Sherlock Holmes' novel of the same name. This production takes literature's most spine-chilling mystery and turns it into a story of suspense, humor and ultimate terror.
"I am overwhelmed by the complex story these students were able to tell. It was a difficult show, requiring a lot of dialogue and the ability to give the audience clues, cues and false-positives in order to keep them guessing," the show's director Doug Hurt said.
Audience members were drawn into the well-written and executed storytelling involving Sherlock Holmes, played by senior Jake Allen, and Dr. John Watson, played by junior Parker Akin, as Holmes tries to protect Sir Henry (sophomore Corban Fikes) and the vast Baskerville fortune which comes complete with a family curse—death at the jaws of a living horror prowling on the English moor.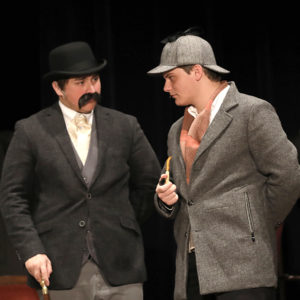 Additionally, a host of colorful characters were featured including Lady Agatha Mortimer (junior Julianne De Luna), Perkins (freshman Danie Quitadamo), Mrs. Barrymore (sophomore Annie Ramsey), Barrymore (junior Lily Shrode), Kathy and Jack Stapleton (played by sophomore Avery Ochoa and freshman Collin Sutton) and Laura Lyons (freshman Mia Wilson).
"I could not be happier with the result. These amazing scholars were able to bring an iconic story to life on stage, keeping an audience on the edge of their seats!" Hurt said.