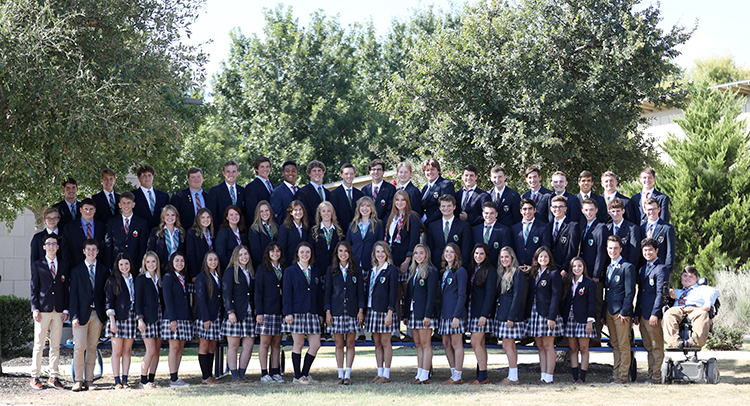 The Class of 2020 has 58 members and is Geneva's tenth graduating senior class. The school now has 315 alumni after the first class of 19 seniors graduated in 2011. The current seniors are scheduled to graduate in May 2020.
Watch for the Senior Profiles to get to know each senior and learn about his Geneva experience. These profiles will be published in The Eagle Eye school newsletter each quarter and posted to the school website.
The members of the Class of 2020 are from front row (l-r): Gage Kohler, Sam Carraway, Margaret Viña, Brooke Radigan, Catarina Flores, Emma De Vries, Gracyn Freiling, Jayne Goodman, Braden Hall, Gillian Loflin, Charlotte Walker, Reese Ferguson, Madeline Chandler, Corley Petrie, Lydia duPerier, Emmalee Jonas, Natalya Pedraza, Anson Eggerss, Russel Navarro, Cole Dutton. Second row: Richard Hicks, Seth Ramsey, Jack Cupit, MacKenzie FitzGerald, Abigail Dees, Cameron Kidd, Elise Valdez, Sarah Ledoux, Brooke Secor, Julia Denton, Kate Flora, Jake Allen, Chaz Garcia, Joel Calderon, Trevor Higgs, Will Bower, Cole Fritcher, Hanson Brown. Back row: Luke Bower, Noah Nilsson, Seth Bower, Luke Hardin, Eric Drees, Easton Myrick, Josh Lopez, Joseph Hohne, Dawson Cate, Nathan Masso, Brandon Strickland, Travis Ratterree, Kade Nicholls, Philip Ackermann, Jack O'Quinn, Evan Schaefer, Joshua Nate, Zack Fly, David Grote.