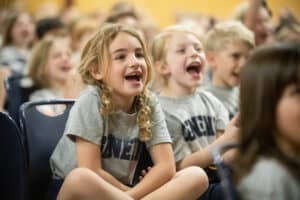 The Geneva Grammar School hosted author Max Lucado on campus recently to read his new book, "Where'd My Giggle Go." This book tells about a boy's journey to search for and re-find his giggle through serving and loving others.
Lucado is a pastor, speaker and best-selling author who visited with Grammar School students in a special assembly during the school's annual Book Week. He shared his book and then spent time with the students answering many questions.
"What a privilege it was to have Mr. Lucado visit our campus during Book Week! Not only is he an accomplished author of over 100 books for children and adults, but he is a man of integrity, humility and great faith. What a great example for our students to follow!," Geneva librarian Cindy Young said.