What is the most influential book you have read besides the Bible? Why?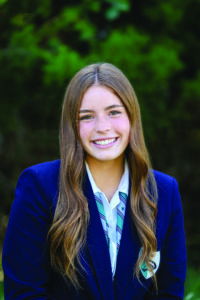 I really enjoyed reading the Hiding Place in seventh grade.
What is your favorite or funniest moment at Geneva?
There are too many to count but one of my favorites is when Spencer Yarbrough pulled my chair out from under me in eighth grade and I landed on a pencil. I still have a scar.
What will you miss most when you leave Geneva?
The unimportant and unexciting days, that's where the magic of Geneva is. I'll miss off-topic but meaningful discussion around a Harkness table, laying on the boardwalk during study hall, running around campus when it rains, and talking to teachers who feel like friends.
Who has influenced you most while at Geneva? How?
Mrs. Wheeler. She is who she is and that's someone who is gentle and bold simultaneously. Her testimony always resonated with me because of how vulnerable she was and I hope she knows how much that meant to eighth grade me! I admire her for her strength, compassion, wisdom and fun spirit. Spend one class period with her and you will see how full of life she is!
What does being a Geneva student mean to you?
It means that you get to learn about Christ and also academics. If you're a student at Geneva your character is prioritized over your grades and you w
How would you encourage a Geneva kindergartener to persevere in school?
The same advice Mr. Shelton gave us freshman year: Keep the big things big, the little things little and love others well through it all.
What about Geneva do you hope never changes?
The community, but more specifically the priorities of the community.