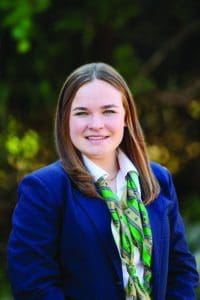 What is the most influential book you have read besides the Bible? Why?
The book that has influenced me the most was The Consolation of Philosophy. The way Boethius is able to explain true happiness is amazing to me.
What is your favorite or funniest moment at Geneva?
Some of my favorite memories are from the late night rehearsals for the musicals. This includes one specific night before homecoming where the whole cast jumped up on stage and started line dancing to "Footloose."
What will you miss most when you leave Geneva?
I will miss the community. Geneva is a special place that brings together and creates a family including adults, teenagers, and children.
Who has influenced you most while at Geneva? How?
Mr. Ben Vis has influenced me the most because of his thoughtfulness towards others and hard work. I look up to him because he shows God's heart of servanthood.
What does being a Geneva student mean to you?
A Geneva student is one who strives to do their best, out of love, to glorify God.
How would you encourage a Geneva kindergartner to persevere in school?
Every minute is so worth it. Yes, it is hard, but there are so many good days to balance the bad. The friends and mentors you will make at Geneva in the years to come will be there for you. I promise there will always be someone that you can lean on!
What about Geneva do you hope never changes?
I hope and pray that Geneva never loses their love for the Lord. I hope every student will be surrounded by an abundance of joy that only comes from the Lord through teachers, friends, and classmates.