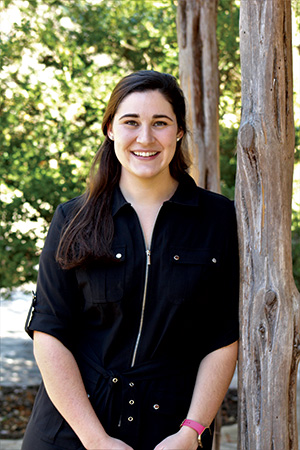 Please give a current update on yourself (college/graduation year, major, work/career, family, other interests, service or hobbies).
I graduated from Texas A&M in 2015 and studied Natural Resource Management and Spatial Sciences (GIS—Geographic Information System, remote sensing, digital cartography). I have been working at the East Foundation, a wildlife organization that focuses on wildlife research and education, cattle production, and promoting private land stewardship, for the past two years. I live in San Antonio with my dog Prince. I attend First Presbyterian Church and am still riding horses, shooting skeet and playing outside!
In what ways did your Geneva education/training prepare you for the work you are doing now?
Geneva challenged me to always think critically. For work I use technology to understand and improve the productivity of native rangelands for both wildlife conservation and livestock production. Having learned how to think critically I am able to be adaptable and pick apart problems to find potential solutions.
Please describe the most significant value you learned from Geneva.
The most significant value I learned at Geneva was to a have a defined worldview. It is important to stay informed, learn about subjects from multiple angles and be able to explain why you think and believe what you do. As you grow and move around, your thoughts may develop and grow with you, but it is important to be able to explain what a biblical worldview means—and then to be able to defend it in conjunction with why you think and act the way you do.
How would you encourage Rhetoric students to make the most of their Geneva years?
Take advantage of the tight-knit community that is encouraging you to be better. Your high school experience is VERY different than pretty much every other kid in the U.S.! Geneva is a place that everyone around you is actively pursuing their faith, challenging and encouraging you to go all in. Friends built at Geneva can last a lifetime (so far, I can only guarantee up to seven years, but things are looking good).
Describe Geneva in one word. Explain.
Idyllic. I don't know that I thought this at the time I was attending Geneva, but in light of recent school shootings and escalating attacks on Christianity in this country, the "Geneva bubble" allowed me to feel safe, secure and valued.
Please share one or two of your Geneva extracurricular activities and then contrast that with one or two of your current non-work activities. 
Basketball was a big part of my Geneva experience—and I still enjoy basketball through watching the Spurs and TAMU games.
What are your future career goals and how do you feel prepared for them? How has Geneva been a thread that has connected you to your work now and what you see yourself doing in the future?
As my career develops I hope to be a voice for wildlife conservation, research and private land stewardship that links to the land and outdoors to people that otherwise may not be exposed. Geneva has woven into me the confidence to disagree and dig for the truth—whether that be the truth in the Lord or in best rangeland management practices.
What is something you have learned/are learning about yourself and God's world?
Trust in the Lord.