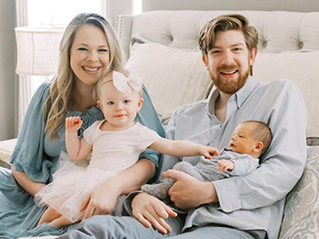 David Winston, Geneva Class of 2011, is the highlighted alumnus for this quarter. Here are his responses to a standard set of questions which are given each quarter to an alumni to answer. Enjoy catching up on David!
1. Please give a current update on yourself (college/graduation year, major, grad school, work/career, family, other interests, service or hobbies).
After graduating from Baylor University in 2015 with degrees in Entrepreneurship, Finance and Fellows, I began working for J.P. Morgan in Austin. In 2018 I transitioned to Texas Next Capital, a San Antonio-based investment firm. My wife, Landen Shea Winston, and I welcomed our second child, Miles Baker Winston, on April 13, 2020. We live in Austin with Miles, our daughter Skylar Reese and our golden retriever Jasper. When not figuring out life with two under two, I am involved with the Prison Entrepreneurship Program, Liberty Leadership Council and Providence Church.
2. In what ways did your Geneva education/training prepare you for the work you are doing now?
Writing a thesis is in many ways very similar to making an investment decision. Both require critical thinking, information aggregation and synthesis as well as seeking advice from those smarter than I am!
3. Please describe the most significant value you learned from Geneva.
Intellectual curiosity. Never underestimate the importance of asking good questions. You will learn more than your peers, be more approachable and, with any luck, arrive at the right conclusion more quickly than you otherwise would.
4. How would you encourage a Geneva Rhetoric School student to make the most of their Geneva years?
Engage. A mentor of mine at J.P. Morgan puts it another way: "wear the t-shirt."
Engage with teachers, peers, junior students.
Engage in the process. Don't simply hear instruction; listen to teachers and coaches. Engage in extracurriculars. Whether participating in multiple sports, band, debate or any of the myriad activities offered at Geneva. Be willing to engage both broadly and deeply. Be adaptable. As I have gotten older I have more and more realized the importance of broad experience. Geneva avails a wide range of opportunities which will improve the hearts and minds of participants. Commit. Don't stand on the sidelines— get in the arena.
5. Describe Geneva in one word. Explain.
Essential. In the wake of COVID-19, this word has new meaning. For services which are vital. Indispensable. And while education in-person may not qualify as essential, there is no question that schooling is crucial. Regardless of the institution. And of course, Geneva meets that standard. Yet, GSB is not only critical to sustain life, but life-giving. Raising higher those who engage in its proposition to sharpen their minds, to honor God, to be excellent in whatever he or she does. Like the blind man made to see, so too does Geneva open one's eyes to higher purpose and deeper fulfillment.
6. Please share one or two of your Geneva extracurricular activities and then compare/contrast that with one or two of your current non-work activities.  
Who knew the AIM program would help me better relate to inmates?! A few years back a friend told me about the Prison Entrepreneurship Program, an organization which brings business men and women into prison to assist inmates in honing their interviewing skills, building a resume and creating business plans to start their own companies. All with the goal of improving outcomes as inmates return to society. While the inmates are a touch older than AIM kids, the lessons in mentorship I learned through AIM are equally applicable: listening, giving honest advice and meeting someone where she is.
7. What are your future career goals and how do you feel prepared for them?
In my opinion, having direction is more important than specific goals. I am convinced that every day we get better or worse. And by placing a personal demand on myself to improve each day, I can only hope that I am laying the foundation, with broad and deep experience, to succeed in the future.
8. How are you impacted by your work now? What is something you have learned/are learning about yourself and God's world?
Being involved with small businesses, the importance of leadership has come more and more into focus. So much of a leader's job is soft, intangible. Establishing a vision, building culture, messaging. In the same way that the vast majority of communication is non-verbal, so too how we do anything is as critical as what we do.