Jeff Rosinbaum, Geneva Class of 2017, is the highlighted alumnus for this quarter. Here are his responses to a standard set of questions which are given each quarter to an alumnus or alumna to answer.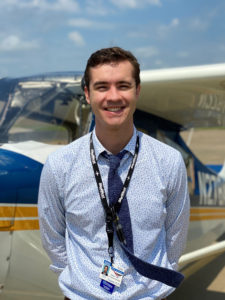 Please give a current update on yourself (college/graduation year, major, grad school, work/career, family, other interests, service or hobbies).
I am a senior at LeTourneau University in Longview, Texas, finishing my degree in Professional Flight and Aviation Maintenance. I am also in my first semester teaching at LeTourneau as a flight instructor, where I will continue working for the next few years after I graduate in May.
In what ways did your Geneva education/training prepare you for the work you are doing now?
At first glance, it might seem like a liberal arts-focused primary and secondary education would not appreciably translate to a career as a pilot/mechanic. What I have discovered through, is that we are all writers, artists and thinkers; and these skills are indispensable in any line of work. The communication strategies I learned in Senior Thesis have made me a better instructor. The organizational skills I learned in Rhetoric School have made me a more disciplined mechanic. The work ethic I developed playing sports helped me progress quickly through the flight program. And the Christian foundation built by my teachers, coaches and other mentors at Geneva put it all in perspective.
Please describe the most significant value you learned from Geneva.
The most significant value I learned from Geneva is the ability to see others and the world in the context of a worldview. This is not something by which we should judge others, it is a means for us to better understand how we can reach people with the truth.
How would you encourage a Geneva Rhetoric School student to make the most of their Geneva years?
Be vulnerable; wear your heart on your sleeve. Rhetoric School is difficult; heck, life is difficult. Whether you realize it or not, you are surrounded by people who would love nothing more than to pour into you. Open yourself up to the possibility of being changed—to the possibility of going to bed each day a different person than you were when you woke up. I don't remember very many of the exams I spent so many hours stressing over. I remember plenty of the conversations, and I wish I had even more of them to recall.
Describe Geneva in one word. Explain.
Committed. In a world where education has become little more than a box to check, Geneva is committed to leaving its students with more than just rote knowledge. There isn't one Geneva teacher who would rather a student earn a 4.0 than live a life glorifying to Christ.
Please share one or two of your Geneva extracurricular activities and then compare/contrast that with one or two of your current non-work activities.
My two main Geneva extracurricular pursuits were basketball and debate. My main extracurricular in college has been LETU's Precision Flight Team. Competition flying takes elements from both athletic and academic competitions, as it ultimately is a skill, albeit with heavy knowledge elements also. It takes incredible diligence to balance the demands of this nationally-recognized organization with my coursework, and the many jobs I've worked in school. Balancing basketball and debate in Rhetoric School was certainly a challenge, but it helped prepare me for the rigor of my season of life to come.
What are your future career goals and how do you feel prepared for them?
I am excited for the immediate opportunity in front of me, which is flight instructing. Eventually, I plan on flying for an airline or corporate aviation company. The LeTourneau program has prepared me well to be a competent, safe and professional pilot. My Geneva education prepared me well to take full advantage of my time at LeTourneau.
How are you impacted by your work now? What is something you have learned/are learning about yourself and God's world?
I have been impacted by my work as a flight instructor more than I ever imagined. The student/instructor relationship is one predicated on trust. The trust my students place in me has opened the door for me to impact them outside the flight deck as well. As I guide students through their flight courses, I also guide some of them toward a healthier lifestyle, better eating habits, character development, leadership qualities and a stronger faith. I find it incredibly fulfilling to see my students grow throughout the semester, and not just as aviators. I am thankful for a position where I can have such a direct impact on people.