What is the most influential book you have read besides the Bible? Why?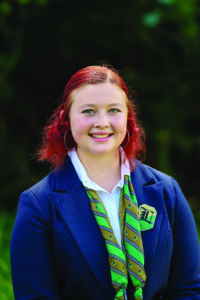 Probably Pride and Prejudice because it inspired my love of literature, history, and language which are several of my passions.
What is your favorite or funniest moment at Geneva?
I walked into to Mr. Arizpe's class on the first day of guitar in 6th grade and on the board was written "if God wanted men to have babies, then men would have babies."
What will you miss most when you leave Geneva?
I will miss all the amazing teachers the most.
Who has influenced you most while at Geneva? How?
Mr. Arizpe for sure. He has helped me grow and develop into the person I am now and his class has taught me so much more than just how to play the guitar. He taught me about life, how to work hard, and be confident in the person I am.
What does being a Geneva student mean to you?
Being a Geneva student means belonging to a unique group of individuals who challenge each other to be better.
How would you encourage a Geneva kindergartener to persevere in school?
Take it one day at a time and find great friends. It will make the years go by faster and make your life so much easier.
What about Geneva do you hope never changes?
I sincerely hope the amazing teacher and student relationships never change. It is really what sets this school apart from the rest.