What is the most influential book you have read besides the Bible? Why?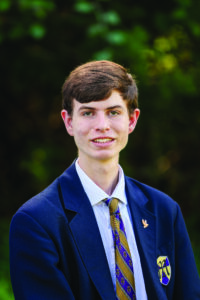 Silence because it raised some very important questions and the core message of perseverance really spoke to me.
What is your favorite or funniest moment at Geneva?
My favorite day at Geneva is Induction day.
What will you miss most when you leave Geneva?
I will miss the community the most when I leave Geneva.
Who has influenced you most while at Geneva? How?
Mr. Milam has influenced me the most because I had him for six years and he changed my perspective on several topics and helped me get involved in some of my favorite activities
What does being a Geneva student mean to you?
Being a Geneva student means going above and beyond as a student and as a Christian even when it is challenging to do so.
How would you encourage a Geneva kindergartener to persevere in school?
I would encourage them to trust in God and His plan for them and to rise to the present challenges in order to succeed in the future.
What about Geneva do you hope never changes?
I hope the close community and events at school  never change.