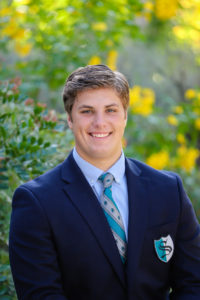 What is the most influential book you have read besides the Bible? Why?
The most influential book that I have read besides the Bible is Harry Potter. Reading and listening to Harry Potter gave me something and someone that I could relate too. Though Harry Potter is fiction is gives great life lessons while also revealing biblical parallels that I love to look for and learn from.
What is your favorite or funniest moment at Geneva?
My funniest and favorite parts about Geneva is getting to go on long bus rides with my teammates. Though at times it can be intense, I have never belly laughed more than being on a bus with all my friends.
What will you miss most when you leave Geneva?
I will for sure miss the community of Geneva the most. Being able to be involved in so many things, whether it be sports, house stuff or fine arts, everyone can do their thing and as much of it as they want, while being centered around a community.
Who has influenced you most while at Geneva, How?
My coaches have influenced me the most while I have been at Geneva. Since I have a love for sports, I have been able to relate to my coaches the most whether it's at practice, in devos, or in the heat of the moment trying to win state championships. So, thank you to Coach Herbort, Coach Wright, Coach McNeal, Coach Scott, Coach Ripee, Coach Champion, Coach Mitchell, and Coach Riggs for being the biggest influences in my life at Geneva.
What does being a Geneva student mean to you?
Being a student at the Geneva School of Boerne means that I have been set on a path for success. It means that teachers and coaches have poured into me so that at the next level I am more than prepared to succeed. I am forever grateful to be a student at Geneva because I know it means that I am one step ahead.
How would you encourage a Geneva kindergartner to persevere?
I would tell the kindergartener that no matter how you perceive getting older or reaching the next grade or who tells you how hard it might be, you are always prepared. It might be difficult, but your training, year by year, will get you through the hard times because each year prepares you to be more successful.
What about Geneva do you hope never changes?
The one thing that I hope never changes at Geneva is the opportunity. At Geneva, the best thing in my eyes is the ability to do more than one, maybe two, extracurriculars like public schools. If you want to do something, but you are already doing three other activities, Geneva welcomes you to add another activity to your resume and continue to grow as a person and that is a beautiful thing.