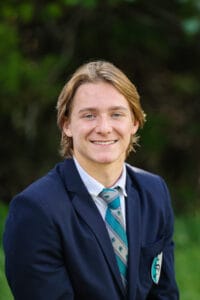 What is the most influential book you have read besides the Bible? Why?
The most influential book I have read is Dante's Inferno because I thought the way Dante organized his hell was interesting as well as his conversations with the people down there.
What is your favorite or funniest moment at Geneva?
One of my favorite moments at geneva was when I caught the snitch during the final match of quidditch my sophomore year.
What will you miss most when you leave Geneva?
I will miss the football games the most when I leave.
Who has influenced you most while at Geneva? How?
Coach Champion and Mr. Naiser influenced me the most while at geneva because of their strong faith and their ability to show it in everything they did.
What does being a Geneva student mean to you?
Being a Geneva student to me means we are held to a higher standard for our education and our practices in our faith.
How would you encourage a Geneva kindergartner to persevere in school?
Your worth isn't based on how well you do in school.
What about Geneva do you hope never changes?
I hope Mr. Naiser and Mr. Poole never change.