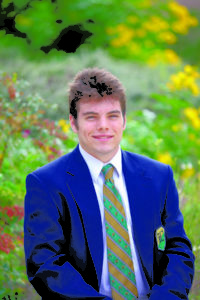 What is the most influential book you have read besides the bible? Why?
The most influential book I have read is definitely Unbroken. Laura Hillenbrand does an excellent job of showing the trials Louis Zamperini went through in order to survive some of the worst conditions as a POW. It meant a lot to me seeing a man go through so much and fight to survive mentally and physically and later find his faith even after it all had happened.
What is your favorite or funniest moment at Geneva?
My favorite moment at Geneva is seeing all the new students who begin in kindergarten each year. I say this because it reminds me that even though I am leaving this place there are those close behind who will go into this world with the same incredible experience that I had at Geneva.
What will you miss most when you leave Geneva?
I will most definitely miss all the teachers that are so approachable. They are always willing to sit down with me and talk not just about school but about life and the road ahead.
Who has influenced you the most while at Geneva? Why?
Coach Wright has been a major influence on my life not only on the field but also off. She has taught me so much about hard work, fighting through unforeseen difficulties and not giving yourself excuses to be lazy.
What does being a Geneva student mean to you?
It means that I am a lifelong learner made in the image of Christ who is part of a community and a family that will last forever.
How would you encourage a Geneva kindergartner to persevere in school?
When times get tough and classes get hard (and they will) just remember that you are in a special place.that many people have not been given the opportunity to enjoy. So I encourage you guys to take that opportunity and do something that you can look back on and know you did your best.
What about Geneva do you hope never changes?
I hope that Geneva never changes its mission. To be a place that develops lifelong warriors for Christ with an obsession for learning that lasts a lifetime.