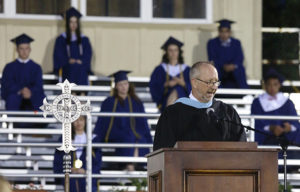 Geneva held its 2020 Commencement Exercises on Saturday, May 23, outdoors on the school's football field. This was the first time the ceremony was held on campus and outdoors by invitation only in order to adhere to current health and safety protocols. This class of 58 seniors is the tenth graduating class of Geneva School.
The Class of 2020 had 16 students who are members of the Geneva Guild which recognizes those who began at Geneva in kindergarten and completed all 13 years at the school. The 2020 Geneva Guild members are McLain Brock, Joel Calderon, Cole Dutton, Anson Eggerss, Reese Ferguson, Macy Kate Flora, Braden Hall, Luke Hardin, Joseph Hohne, Emmalee Jonas, Cameron Kidd, Gage Kohler, Sarah Ledoux, Jack O'Quinn, Corley Petrie and Margaret Viña.
The Commencement Exercises began with a prelude of classical music and a Choral Invocation titled "Peace of God." The processional, "79th's Farewell to Gibraltar," was played on bagpipes as the faculty and members of the Class of 2020 entered.
Development Director and Interim Head of School Amy Metzger gave the welcome and Mr. Steven Tye, Rhetoric School faculty member from 2011-2020, offered the scripture reading from Hebrews 10:19-25 as well as the opening prayer. Valedictorian Catarina Flores and Salutatorian Corley Petrie each addressed the graduates personally in their speeches before the assembly sang the hymn "Great is Thy Faithfulness."
Brad Ryden, Geneva's outgoing Head of School who served from 2006-2020, delivered the Commencement Speech titled "Meeting Together" in which he encouraged the graduates by saying that happiness in life is not the goal or destination, but comes as a result of an abiding faith in Jesus who redeems and renews by His grace. Therefore, pursue His calling by doing what you love to find joy and fulfillment.
Gracyn Freiling was recognized as the winner of the G.K. Chesterton Award for the best overall Senior Thesis presentation.
After the graduates were conferred, the community joined together to sing the school's Alma Mater and the hymn "Non Nobis," which is Latin for "Not unto us, O Lord, but to Your name give glory" from Psalm 115:1.
"God knew that this would be the right group of seniors to finish their senior year remotely. They actually lived the stuff of graduation speech platitudes," Rhetoric School Headmaster Rob Shelton said.
Steve Griffey, Geneva's Chairman of the Board of Trustees, offered the closing prayer. The Faculty Choir sang "The Lord Bless You and Keep You" virtually before the Commencement Exercises closed.