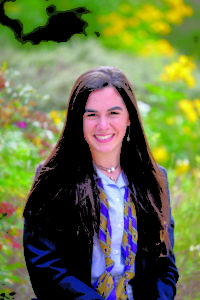 What is the most influential book you have read besides the Bible? Why?
Knowing God by J.I. Packer is the most influential book I've read because it guided me to a better understanding of God while teaching me how to grow closer in my relationship with Him.
What is your favorite or funniest moment at Geneva?
During my freshman year I told Mr. Harrild that the coffee mug he used that had a large picture of his face on it really creeped me out. A couple of weeks later I opened my cabinet at home to find the cup sitting in there with his face staring right at me and that has to be one of my funniest moments at Geneva.
What will you miss most when you leave Geneva?
When I leave I will miss the feeling of being with family when I am on campus. The teachers push us hard and expect so much from us but it's because they love us and want only the best for us.
Who has influenced you most while at Geneva? How?
Mrs. Hammock has easily been the most influential person to me at Geneva. She has mentored me in every aspect of my life and although she is my teacher, I can truly call her my friend.
What does being a Geneva student mean to you?
Being a Geneva student means working hard. It means pushing through the nights when you are flooded with homework, sports practice and extracurricular work because the experience and wisdom gained from all the many different things we are able to do at Geneva makes the hard work worth it.
How would you encourage a Geneva kindergartner to persevere in school?
I would tell a kindergartner to remember what an amazing opportunity they have been given to go to a school like Geneva. They should take advantage of all the opportunities they have to participate in extracurricular activities, sports, clubs and volunteer work. Find something you are interested in and invest your time.
What about Geneva do you hope never changes?
I hope the feeling of camaraderie when the whole school comes together under the Friday night lights at football games never changes. Seeing everyone filled with school spirit, dressed in navy and gold, is one of my favorite things at Geneva.