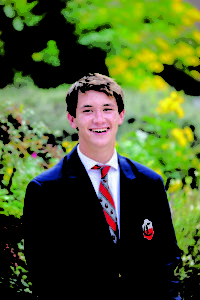 What is the most influential book you have read besides the Bible? Why?
Randy Alcorn's Edge of Eternity influenced me and how I think of the Christian walk. The book convicted me, encouraged me and got me excited about heaven and I still think about the things I learned from it.
What is your favorite or funniest moment at Geneva?
My favorite/funniest moment at Geneva would have to be anytime Zack Fly, Arthur Flores and I hung out our freshman year.
What will you miss most when you leave Geneva?
I will miss the Boardwalk most and the unique environment that Geneva offers us.
Who has influenced you most while at Geneva? How?
I would say Mrs. Hammock influenced me most at Geneva. I really learned how to appreciate art and other's viewpoints from her.
What does being a Geneva student mean to you?
Being a Geneva student means you are able to grow and learn if you want to. Geneva offers you plenty of opportunities to discuss with teachers, grow in relationships and dig deeper into your spiritual walk.
How would you encourage a Geneva kindergartner to persevere in school?
I would encourage a Geneva kindergartner to enjoy each stage of life they go through. I would tell them, "Don't sweat the small stuff."
What about Geneva do you hope never changes?
I really like having an outdoor campus and I appreciate going to a small school that gives us freedoms that other schools may not.