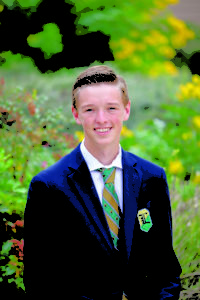 What is the most influential book you have read besides the bible? Why?
The most influential book I have read besides the Bible is probably The Lord of the Rings. The character Samwise Gamgee has always inspired me to be a better friend and companion to those I love, in constant loyalty and self-sacrifice.
What is your favorite or funniest moment at Geneva?
My funniest moment at Geneva was the night of Benefit when Emma De Vries was wearing 4-inch wedges. She walked up to me, looked up into my face and said, "Hey, look! I'm taller than you!"
What will you miss the most when you leave Geneva?
When I leave Geneva, I will most miss my friends- not just my classmates, but also the teachers that I have become very good friends with over the years.
Who has influenced you the most while at Geneva? How?
Mrs. Cate has influenced me the most. She's like a mom to me.
What does being a Geneva student mean to you?
Being a Geneva student means being able to perceive truth in all areas of life, for truth is in all of them.
How would you encourage a Geneva kindergartner to persevere in school?
I would encourage a Geneva kindergartner to never stop having fun.
What about Geneva do you hope never changes?
I hope that Geneva always has the hands-on learning that a small class size allows.