What is the most influential book you have read besides the Bible? Why?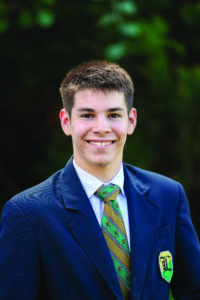 The most influential book I have read would be Unbroken, by Laura Hillenbrand. It shows redemption and forgiveness in one of the most impactful ways possible.
What is your favorite or funniest moment at Geneva?
My Favorite moment was the football state championship game at the last play where we won. The excitement from the whole team was amazing and I loved being a part of it.
What will you miss most when you leave Geneva?
I will miss the comradery that I have with my teachers.
Who has influenced you most while at Geneva? How?
Mr. Southwick has been my biggest influence; he has been a huge mentor to me and has taught me a lot about not just school but also about life.
What does being a Geneva student mean to you?
Being a student at Geneva shows that I have made a commitment to be part of something larger than myself.
How would you encourage a Geneva kindergartener to persevere in school?
I would tell them that it is worth it and to not give up.
What about Geneva do you hope never changes?
I hope the relationship between teacher and student never changes because of how unique it is to Geneva.