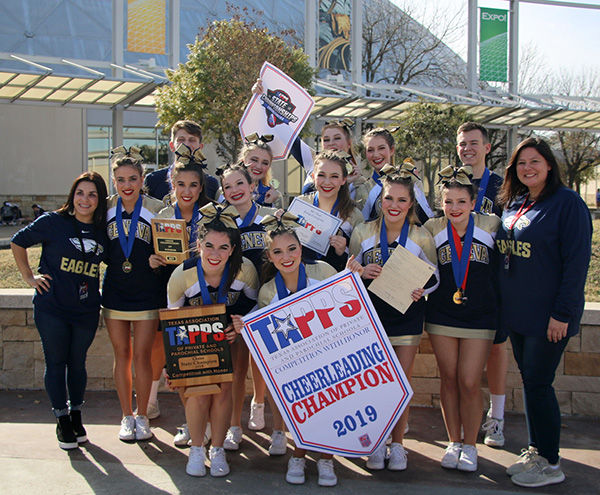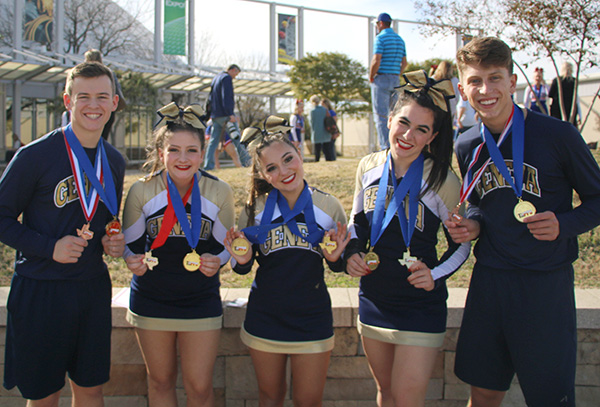 The Geneva competition cheer team claimed the TAPPS Cheer State Championship in Division II, Small Squad Competition in Belton on Tuesday. This is the first Cheer State Championship in the six years the competition cheer team has competed.
In addition to earning a team gold medal, the Eagles competition cheer team was recognized with a Superior Award for execution of their routine. Several individual team members were honored with individual All-State awards as well. Seniors Natalya Pedraza and Corley Petrie were named First Team All-State and senior Emmalee Jonas was named Second Team All-State. Seniors Hanson Brown and Jack Cupit earned Honorable Mention and junior Bella Coates placed fifth in the Individual Jump-off event.
Academic All-State honors were bestowed on Corley Petrie. To earn Academic All-State, students must be a junior or senior, have at least a 90 cumulative grade point average and be selected to at least Second Team All-District.
"I have had the great honor to coach cheerleading at Geneva for the past nine years and each year helped build to this State Championship. This team challenged themselves to progress to higher skills and accepted only the best from each other. They pushed through and prayed at every practice that they would glorify God. Their team motto to encourage each other was 'Rise Up! Take Courage! Do It!' from Ezra 10:4 and they did it!" Geneva Head Cheer Coach Amber Jonas said.
Top photo: Team members are from front row, from left: Corley Petrie and Natalya Pedraza. Second row: Coach Lauren Whitney, Naiya Swientek, Gillian Loflin, Mari-Fer Balli, Bella Coates, Lydia duPerier, Emmalee Jonas and Coach Amber Jonas. Back row: Jack Cupit, Sophia Baldwin, Macy Kate Flora, Emma Wilson and Hanson Brown.
Bottom photo: Senior competition cheer team members Hanson Brown, Emmalee Jonas, Natalya Pedaza, Corley Petrie and Jack Cupit were recognized with TAPPS All-State awards in addition to the team State Championship.