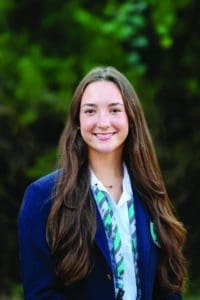 What is the most influential book you have read besides the Bible? Why?
I liked Mere Christianity because Lewis asks challenging questions but also gives his answers in a way that was easy for me to understand.
What is your favorite or funniest moment at Geneva?
My favorite moment at Geneva was coaching Buff Puff.
What will you miss most when you leave Geneva?
I will miss the genuine relationships with teachers the most.
Who has influenced you most while at Geneva? How?
Mr. Johnson has influenced me the most because he is not afraid to call you out but also challenges you to think hard. He is also realistic, relatable and easy-going, yet productive.
What does being a Geneva student mean to you?
Being a Geneva student means being all in with everything I do even if it seems silly, embarrassing or sometimes pointless. It is knowing the work we do is hard and embracing the challenges.
How would you encourage a Geneva kindergartner to persevere in school?
Build quality friendships with people who will hold you accountable and are willing to work alongside you.
What about Geneva do you hope never changes?
I hope the mentality that no one is "too cool" to participate in all the fun activities offered never changes.