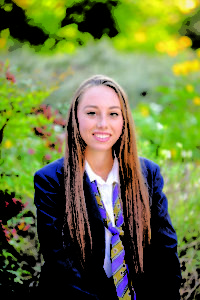 What is the most influential book you have read besides the Bible? Why?
The most influential book I have read besides the Bible is The Lord of The Rings. This is because throughout the book, Frodo is strong and determined to do what is right with the help of his friend Sam. So, I want to be that good friend like Sam to people around me, and also want to be strong and determined like Frodo.
What is your favorite or funniest moment at Geneva?
My favorite memory was when Dawson, Brandon, Richard, Michael and I were in the Band Room playing Ninja and Richard tried to step back on the rug and totally wiped out.
What will you miss most when you leave Geneva?
When I leave Geneva, I will miss having such amazing teachers, who pushed me to be the best I could be.
Who has influenced you most while at Geneva? How?
The person who influenced me most while at Geneva is Mrs. De Vries. She is like a mom to me. J She always pushes me to be the best version of myself, and to do everything to God's honor.
What does being a Geneva student mean to you?
Being a Geneva student means that through everything I do, I give 100 %. It means that my word is my bond, and that I have integrity in all things.
How would you encourage a Geneva kindergartner to persevere in school?
I would encourage a kindergartner by saying that school may take some work, but that is okay. Keep pushing on, because in the long run you get so many more benefits that you may not even realize.
What about Geneva do you hope never changes?
I hope Geneva never changes in its friendly environment, the relationships that you create with your teachers and the great learning environment