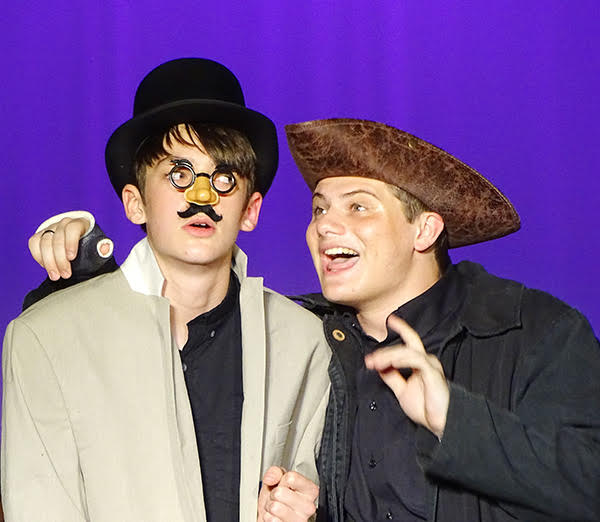 The Geneva Fine Arts Department presented "Shakespeare on the Green" last weekend in three different showings on the Geneva stage. The production is a fun, frantic and slightly fractured introduction to five of Shakespeare's plays.

The five narrations were "Taming of the Shrew," "King Lear," "Comedy of Errors," "Merry Wives of Windsor" and "The Winter's Tale." Told in modern day English, these narrations were humorously told in an old English style with a thrust stage offering little amplification which is the way theater was designed in Shakespeare's day. The audience was encouraged to be interactive with the actors.

Cast members were high school theater students Parker Akin, Jake Allen, Amber Bormann, Julianne De Luna, Cassidy Egli, Corban Fikes, Gracyn Freiling, Haley Hallmark, Kade Nicholls, Avery Ochoa, Lily Shrode and Aubrey Webb. Crew members were Brock Ambelang, Avery Baggs, Xanthis Barthel, Emma Cress, Corvin Jonas, Matthew Schroder, Trey Stepanow, Gabby Reyes and Chase Wilson.

Eighth grade theater students served snacks and beverages to the audience who were seated in an intimate setting at tables of eight surrounding the thrust stage. These students were: Mattie Sue Arnold, Ava Ayers, Ellie Ledoux, Danie Quitadamo, Eliot Ryden, Luke Pratt and sophomore Grace Wacker.

"I am super proud of these students for learning Shakespearian plots that required a great deal of dialogue memorization and making it an engaging, energetic and entertaining play," Geneva Fine Arts Director Gradi Evans said.