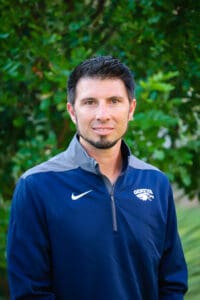 Geneva School of Boerne's Athletic Director Eric Boerboom is stepping down to take another role at a school in Houston. He served at Geneva for nine years.
 
Boerboom came to Geneva in 2014 and coached the varsity girls basketball team for five years with a 109-53 coaching record including three District Championships and one Area Championship. He also coached cross country and golf throughout his tenure. Most recently, he coached the Logic School boys basketball team as they earned the ISAL Championship in 2022 and were runners-up the previous year.  
 
"It was with a heavy heart that I accepted Eric's resignation. His passion, excellence, leadership and desire to serve God with the gifts and talents given to him have made a significant difference at Geneva and he will be dearly missed," Interim Head of School Debbie Ledoux said.
Under his leadership, the Geneva Athletic Department has earned six State Championships in a variety of sports and won the Henderson Cup twice as the most outstanding school in its classification. Geneva is in a strong position in the TAPPS 4A Henderson Cup competition again this year.  
 
Boerboom and his wife Beth have five young children, three of whom are students at Geneva. Beth has served as a substitute teacher and in a variety of volunteer roles during their time at the school.  
 
"Geneva has been home for Beth and me longer than any other place in our adult life. This community welcomed and supported us as we grew from a family of four to a family of seven. God has used this community to help us grow and mature in our faith. Our family life has become intertwined with all things Geneva, and we are grateful for the memories and friendships that God has given us through our time here," Boerboom said.  
 
He has taken a position at Cypress Christian School in Northwest Houston beginning in July where he will lead the varsity boys basketball program and teach seventh grade Bible.
 
"Change is always difficult, but I have seen God's hand in each difficult circumstance. God always fills the void with just the right person at just the right time. Geneva Athletics has had a great year, perhaps one of the most successful in recent years, and God will continue to provide great coaches and people just as He has in the past," Boerboom said.