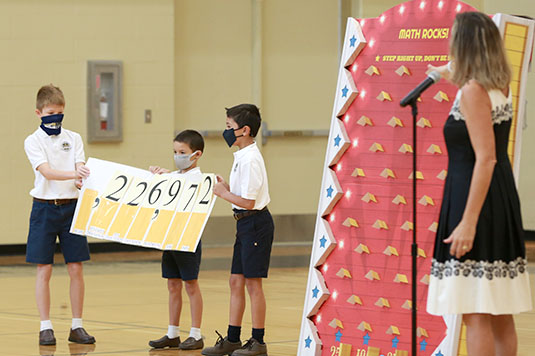 Geneva students in kindergarten through fifth grade were challenged to practice math over the summer as part of the annual Grammar School Summer Math Challenge. Each participating student was recognized at the Summer Awards Math Assembly where bronze, silver or gold medals were earned according to the amount of time they spent practicing.
Students were asked to earn minutes by practicing basic math facts, completing math-related summer camps, workbook pages and by solving puzzles. This voluntary challenge had 205 students participating over the summer which totaled 226,972 minutes.
Three students broke the individual school record of 6,014 minutes. These students were fifth-grader Jared Bass with 6,015 minutes, fourth-grader Jaden Boerboom with 6,186 and first grade-student Luke Taylor with 6,380 minutes. All three were invited to play a game with the Math Rocks gameboard pictured here. Luke won with an overall score of 125 points.