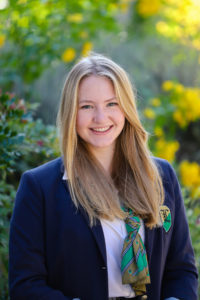 What is the most influential book you have read besides the Bible? Why?
The most influential book I have read has been Get Out of Your Head: Stopping the Spiral of Toxic Thoughts by Jennie Allen. This book has been something I read with a Bible study and has impacted my walk with Christ the most and really made me stop and think about what actually goes on inside my head and what I can do about it to best serve others and the Lord.
What is your favorite or funniest moment at Geneva?
Lana, Riley, and I were painting signs for spirit club after school. There were roaches EVERYWHERE and we ended up getting locked in the school cause the gate got shut. It was a mess but one of my favorite and funniest memories.
What will you miss most when you leave Geneva?
Probably the community of the school and how everyone is going through whatever you are going through. The community will take care of its people no matter what the circumstance.
Who has influenced you most while at Geneva, How?
This question is extremely difficult because I have been affected by every relationship I have had at Geneva. But Coach Wright has probably influenced me the most at Geneva. She has taught me to stand up for what I believe in and has showed me how to combine my relationship with God and others with what I do and love. She made me feel so loved and was always encouraging me.
What does being a Geneva student mean to you?
Being a student at Geneva is a difficult task because so much is expected of you. But with that comes so much freedom and trust. Being at Geneva is more than just being a student as you have friends and relationships with more than just your peers.
How would you encourage a Geneva kindergartner to persevere?
To the Geneva kindergartens: I remember being your age and imagining being a senior but never really thought it would happen because it seemed like such a big task. But if you work hard and pursue relationships and activities that you love, Geneva is more than just school and will become your family. As frustrated as you can get, remember why you are here, and that Geneva is a place you can serve the Lord like no other.
What about Geneva do you hope never changes?
I hope Geneva never gets too serious about everything. Students can be who God made them be without judgement and I hope that never changes. There is something so accepting about this school and I hope that never goes away.