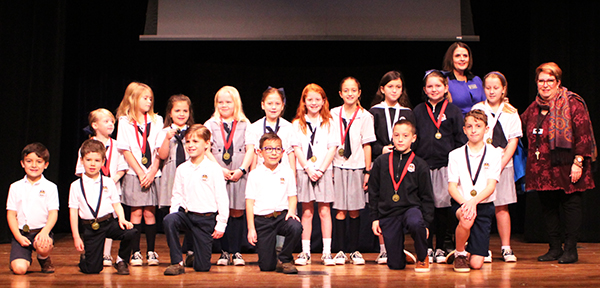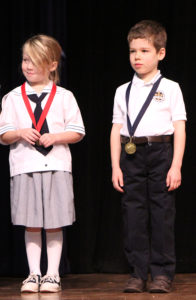 Geneva Grammar students celebrated National Handwriting Day during the school's John Hancock Handwriting Awards Assembly. John Hancock is known for his distinctive bold signature on the Declaration of Independence.
Students in kindergarten through fifth grade entered the school's annual competition by submitting a handwritten Bible passage from I Corinthians 13: 4-8. Teachers submitted the top three handwriting samples from each grade and the faculty chose the winners anonymously per grade. These students were recognized in the assembly.
In kindergarten, Christopher Turner placed first, Scarlette Bain was second and Logan Powell finished in third place.
Audrey Diebel finished in first place with Auden Fleming and Jay Hiler coming in second and third place, respectively, in the first grade contest.
Second grade student Callie Grace Patteson earned first place, Pippa Fikes was second and Carlos Pigeon finished in third place among second graders.
In third grade, Quinn Malkowski placed first, Ruby Sue Svendsen was second and Micah Bellamy finished in third place.
Emma Boyd placed first, Londyn Winchell came in second and Olivia Hall was third in the fourth grade contest.
Fifth grade student Rebekah Burkhart earned first place, Caleb Sehlke was second and Drew Green finished in third place among fifth graders.
"Legible handwriting means clear communication. Studies show that there is a direct correlation between handwriting and brain development. Geneva focuses on penmanship in order for our students to gain this basic skill to be clear communicators," Grammar School Executive Assistant Beverly Johnson said.