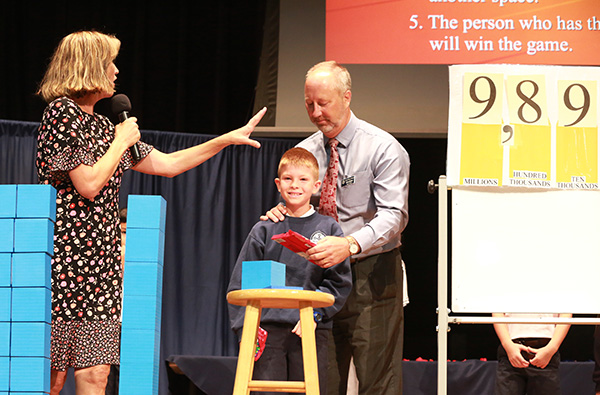 Geneva students in kindergarten through fifth grade were challenged to continue to practice math over the summer as part of the annual Grammar School Summer Math Challenge. Each participating student was recognized at the Summer Awards Math Assembly where bronze, silver or gold medals were given according to the amount of time they spent practicing. Third grade student Jaden Boerboom earned the most minutes and the right to play Geneva Head of School Brad Ryden in a math game titled Place Value Pockets.
"On average, students lose 2.4 months of their grade equivalency level when they do not practice math over the summer. The Summer Math Challenge was created to combat this. My personal passion is to reveal the beauty of mathematics by making it more engaging for students," Grammar School Math Specialist Tina Dube said.
Students were asked to earn minutes by practicing basic math facts, completing math-related summer camps, workbook pages and by playing board games. This voluntary challenge had 240 students participating over the summer which totaled a new school record of 260,708 minutes.