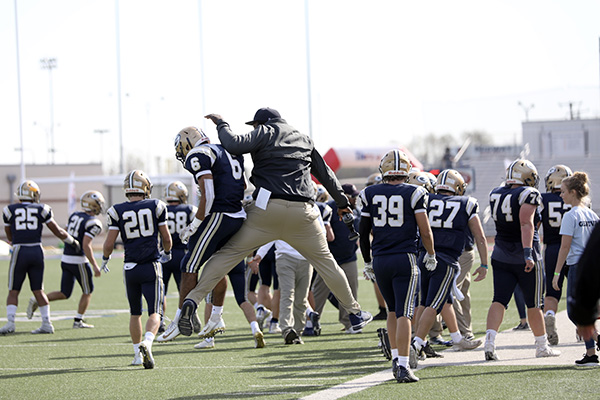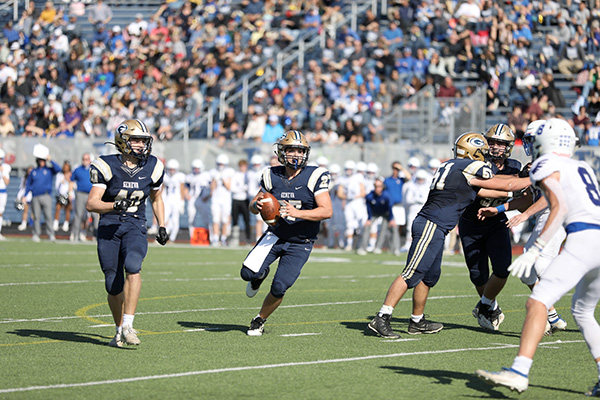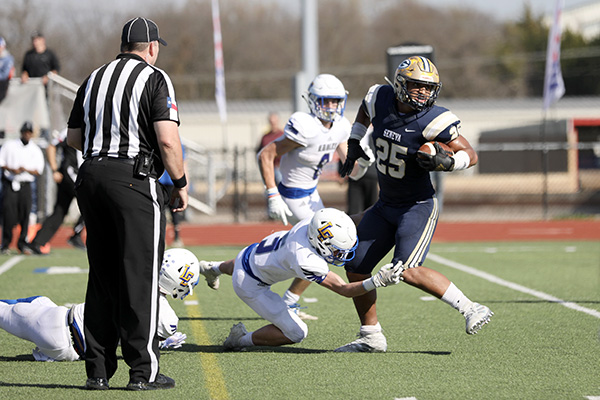 The Geneva varsity football team won the TAPPS Division III State Championship with a 49-18 victory over Lubbock Christian at Panther Stadium in Hewitt on Saturday. This is Geneva's first TAPPS Division III 11-Man Football State Championship. The Eagles won the TAPPS Six-Man Football Division I State Championship in 2014.
Junior quarterback Cade Barone passed for 266 yards and three touchdowns and had 17 carries for 74 rushing yards. Senior running back Josh Lopez rushed for 122 yards and four touchdowns and senior running back Joel Calderon accounted for 133 receiving yards and two touchdowns as well as another 45 yards on the ground.
Junior Brock Ambelang added an additional 96 rushing yards. Kicker Ethan Valdez was perfect in all five extra points scored after touchdowns. All totaled, the Eagles posted 602 total offensive yards.
On the defensive side, defensive backs Calderon and sophomore Aidan Christal had two interceptions each and many players contributed with outstanding plays and tackles to hold the previously-undefeated Lubbock Christian School to just 18 points.
The victory was especially sweet after the Eagles' 15-14 loss to Willow Park Trinity Christian Academy by one point in the final seconds of the title game last year to fall just short of clinching the State Championship.
"What a difference a year makes. I'm not going to deny it was motivation for everybody. We tried not to overdo it talking about it, but once we got here and got in that dressing room, it was on everybody's mind, I promise you that," Coach Dean Herbort said.
Congratulations to the players, coaches, families, administrators, cheer squad, band and all of the amazing Geneva fans for an incredible dream-come-true season!
Rhetoric students are invited to join the team in the Geneva Gym at 8am on Thursday, December 12, when Boerne Mayor Tim Handren presents a congratulatory proclamation to the team for earning this great accomplishment.
The 2019 TAPPS Division III State Champion Eagles Football Team—Below from front row (l-r): Blake Wohlfarth, Dominic Garcia, Ethan Brunsvold, Henry Jons, George Viña, Aidan Christal, Jake Flora. Second row: Coach Dean Herbort, Corvin Jonas, Cade Barone, Collin Sutton, Sam Armstrong, Chaz Garcia, Hayden Allen, Brock Ambelang, Ethan Valdez, Cole Hodo, Coach Nick Champion. Third row: Coach Julius Scott, Coach Steve Rippee, Grant Mowery, Jackson Friesenhahn, Zack Fly, Josh Lopez, Luke Pratt, Kade Nicholls, Seth Ramsey, Luke Evans, Jackson Young, Coach Julius McNeal, Coach Mike Standerfer. Back row: Joel Calderon, John Henry Friesenhahn, Seth Bower, Trevor Scott, Travis Ratterree, Easton Myrick, Joseph Hohne, Rider Egbert, Joshua Nate.