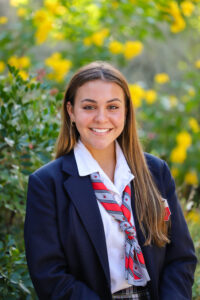 What is the most influential book you have read besides the Bible? Why?
Mere Christianity in Mr. Shelton's Worldview class 100%. C.S. Lewis is extremely wise and the analogies he used to describe what it is like to truly be a Christian has changed the way that I view my faith.
What is your favorite or funniest moment at Geneva?
My favorite moment at Geneva did not take place on campus and is a reoccurring moment… It is at each school dance when a good song comes on and each and every person sings and dances like nobody is watching. During these moments I look around at my peers and can't help but notice the smiles on their faces. I can tell that nobody is worried about a thing in the world and they are living in the moment.
What will you miss most when you leave Geneva?
I am sure this is a very common answer, but I will definitely miss the community the most.
Who has influenced you most while at Geneva, How?
Mr. Shelton. He is kind of like me in the sense that he doesn't sugar coat things. He gets straight to the point and tells things how they are, and I believe that being able to understand the beauty and love behind that is a huge part of growing up and maturing. I also appreciate his selflessness and humor around campus.
What does being a Geneva student mean to you?
Being a Geneva student has shown me how lucky I am to be going to such an amazing school. I truly am very grateful that I was able to spend my high school years on such a beautiful campus with a tight knit community. I had experienced previous schools that I hadn't quite clicked with, and Geneva was kind of like the sunshine after the rain.
How would you encourage a Geneva kindergartner to persevere?
It's great to live in the moment, but I would also encourage students who are lucky enough to attend Geneva to step back and try to take a different perspective at what all goes into making Geneva so great. The teachers, the parents, the other students etc. We all play a part. And once you have taken a step back to look at the bigger picture, praise the Lord for it because it is by God's love and grace that Geneva is where it is today.
What about Geneva do you hope never changes?
The house system, the boardwalk, the school dances… all of it but if I am only naming one thing… to never lose sight of why we are all here and who we need to give thanks to. Praise the Lord.