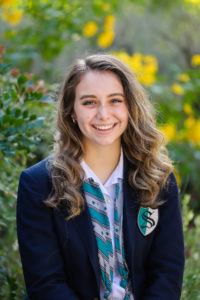 What is the most influential book you have read besides the Bible? Why?
The most influential book I've read at Geneva is Amusing Ourselves to Death. We read it in our junior year worldview class, and it really opened my eyes to the world of media and its presentation to the audience, and even inspired my thesis topic.
What is your favorite or funniest moment at Geneva?
My favorite moment at Geneva was when Mr. Tye spent an entire class period discussing Ariana Grande lyrics, and turned it into a class discussion.
What will you miss most when you leave Geneva?
When I leave Geneva, I will miss the faculty the most (especially Ms. Daniels). They have been some of the most influential people in my life and I can say now that I am thankful for every teacher that I've had throughout the years.
Who has influenced you most while at Geneva, How?
The person who has influenced me most at Geneva is probably Mr. Tye. Even though he has a very goofy nature, he has helped me the most when it comes to writing and speaking, and I am very grateful for his efforts.

What does being a Geneva student mean to you?
To me, being a Geneva student means knowing how to navigate through life and how to think rationally through everything.

How would you encourage a Geneva kindergartner to persevere?
To a kindergartener I would say to always, always use your planner, and develop good habits when you're still young. 
What about Geneva do you hope never changes?
I hope that the love and care that the teachers have for their students never changes.