What is the most influential book you have read besides the Bible? Why?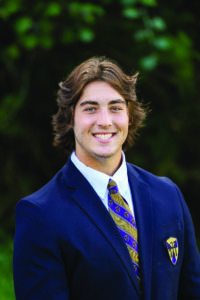 The most influential book I have read is the Principle of the Path by Andy Stanley. I have been able to use the knowledge I learned from that book by applying it to real life situations. Everyone has desires and goals, and that book helped me understand how to efficiently reach my desired destination without wasting any time.
What is your favorite or funniest moment at Geneva?
My favorite moment at Geneva was coming back from a 14 point deficit in the final minutes of the 4th Quarter against the Woodlands Christian to win the game. It was an important playoff game and I remember it being so special. Although the odds of us winning the game were extremely low, we came together as a team and defeated the odds that were stacked against us.
What will you miss most when you leave Geneva?
The thing I will miss most when I leave Geneva is the personal relationships you are able to build with your teachers. It's a special relationship because you can truly see that they care for you and want the best for you. In college I won't have the opportunity to make the same relationships with my teachers as I have at Geneva.
Who has influenced you most while at Geneva? How?
Luke Kaiser is the person who has influenced me the most at Geneva. He is my best friend and we spend a majority of our free time together. We both mean a lot to each other so we value each others opinions and choices. He has influenced me in a great way, I came to Geneva my sophomore year without many friends here and Luke was one of my first. Nobody at Geneva has influenced me more than Luke because I spend all my time with him and include him in a majority of my daily choices and events.
What does being a Geneva student mean to you?
Being a Geneva student makes me feel proud of myself. It is very challenging to keep up with the tough academics and busy schedule, but I pride myself in being able to do so.
How would you encourage a Geneva kindergartener to persevere in school?
I would encourage a kindergartener to try your very best in all things school related. God has blessed us especially in America with the opportunity to have a very good education. We should take advantage of that and strive to do so with excellence!
What about Geneva do you hope never changes?
I hope Geneva never loses its special aspect of having teachers and staff that care about you and want to see you personally succeed. As a student at Geneva, you never feel like just a number. You're a human being and there are people around you who want you to succeed.