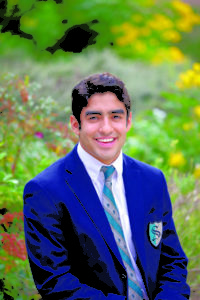 What is the most influential book you have read besides the bible? Why?
The most influential book besides the Bible that I have read is Silence by Shusaku Endo during World View class. This book and the conversations we had as a class made me think about my faith and what I would do if I was put in the priests' situation.
What is your favorite or funniest moment at Geneva?
My most memorable moments at Geneva are playoff time during Geneva Football. The team is at our best and we have a bond from practicing and playing together. The school and community gets involved and show their support in big ways.
What will you miss most when you leave Geneva?
What I will miss most about Geneva is being in a community with my teachers and coaches and friends and even their families. Geneva is a place where I am truly known and loved.
Who has influenced you the most while at Geneva? Why?
Will Langenbahn (Class of 2018) has influenced me the most on and off the field or court. He is a great example of how to be a great leader and not to hold back on anything in life. My coaches have also influenced me to work hard and be a good teammate.
What does being a Geneva student mean to you?
Being a Geneva Student means that I am preparing myself as a Christian to lead for the cause of Christ throughout my lifetime.
How would you encourage a Geneva kindergartner to persevere in school?
I would encourage a kindergartner at Geneva to use the lessons they learn about perseverance in Grammar School P.E. Remember "We're winners not whiners." Listen to your coach because she is the best one out there.
What about Geneva do you hope never changes?
I hope the family camaraderie and tight community never changes here at Geneva. I also hope the ability to form relationships across all different grade levels continues. I loved the AIM program as a Grammar student and as I participate in it as a Rhetoric student.