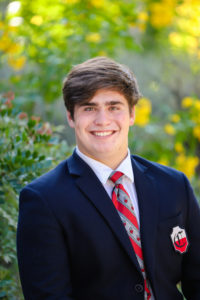 What is the most influential book you have read besides the Bible? Why?
The book Silence was very influential to me because it opened my view to how Christian missionaries are persecuted in other countries.
What is your favorite or funniest moment at Geneva?
My favorite moment I've had at Geneva is when we won the football State Championship after losing by a point the previous year (and losing in the semi-final game the year before that) and working so hard to get back there the next year.
What will you miss most when you leave Geneva?
I will miss the tightly knit brotherhood of the football team the most.
Who has influenced you most while at Geneva, How?
The entirety of the football coaching staff has taught me more life lessons about working hard, attention to detail and being a Godly man than I can count. I will hold on to those lessons for the rest of my life.
What does being a Geneva student mean to you?
To me, being a Geneva student means being an educated Christ follower with a rock-solid foundation in their faith.
How would you encourage a Geneva kindergartner to persevere?
I would tell them that when they come up against something difficult, do not waste time complaining about it and just do it. Another thing I would tell them is to choose which friends you spend your time with wisely.
What about Geneva do you hope never changes?
I hope that the way the teachers pour so much into their students never changes at Geneva.