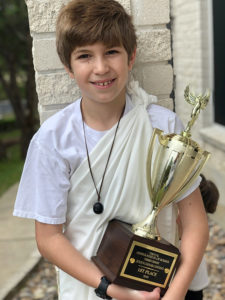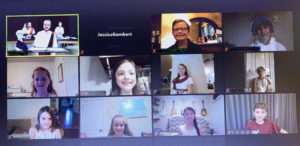 Geneva third grade students compete in the Julius Caesar Contest each May. Students take a comprehensive written exam on their year-long study of Ancient Greece and Rome. The top 10 scorers earn the right to compete on stage in the Julius Caesar Contest where they dress in their finest togas and answer verbal questions about what they learned this year.
This year, the 17th annual Julius Caesar Contest was held virtually on Zoom. Liam McClain (at left) was declared the champion, Meredith York was runner-up and Hailey Yost finished in thrid place. The remaining finalists were Huntley Allen, Micah Bellamy, Katie Chapa, Wells Crawford, Ava Kearney, Lucas Lozada and Quinn Malkowski.
"Students look forward to this challenging and exciting competition all year! The annual Julius Caesar Contest is an amazing opportunity for students to showcase their knowledge of history," Geneva third-grade teacher Jennifer Wilson said.
Grammar School Latin specialist Alex Markos and teachers Mrs. Jennifer Wilson, Mrs. Tonya Fikes and Mrs. Danielle Patteson delivered Liam's first place trophy to him after the Zoom contest was completed.