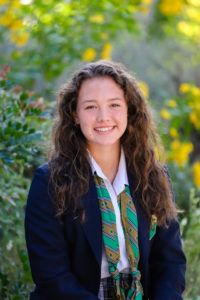 What is the most influential book you have read besides the Bible? Why?
Brave New World was the most influential book I've read at Geneva. It takes a distorted view on life and reminds me how perfect God created us and the earth around us.
What is your favorite or funniest moment at Geneva?
Gracie, Riley and I were at the school super late making signs for the volleyball team. As I was leaving around midnight the gates were shut and the lock was on the gate. I freaked out and called Gracie and Ry and told them it was locked, so we ended up calling a bunch of teachers and people seeing if they knew the code. Turns out, when we got the code; the gate wasn't actually locked at all. My bad…
What will you miss most when you leave Geneva?
The people at Geneva have a way of drawing you in and caring about you. I will miss the community of caring people who won't let you walk alone through hard things.
Who has influenced you most while at Geneva, How?
Coach Wright has most definitely influenced me the most. She pushes me to be not only a better player, but a better person. Her encouraging words and kind heart can light up anyone's day. She is a role model for me in my walk with the Lord, and in how to pursue the best player and person I can be.
What does being a Geneva student mean to you?
Being a Geneva student means persevering through adversity. It means furthering your walk with the Lord around in the company of other believers. It's working harder than most people at any given time in sports and in school. It means spending time with families and friends and getting to know the deeper side of them. It's hard work, but it's worth it.
How would you encourage a Geneva kindergartner to persevere?
My encouragement to a kindergartener would be to keep your priorities straight. God, family, school and sports. Many things and activities will be pulling for your time as you grow up. Some will be easy, and some will be hard and not fun. Make sure you know the Lord and that He is in control. Your family is there for you to help you along the way and they love you. Invest in friends and grow those relationships.
What about Geneva do you hope never changes?
I hope the ability to have fun never changes at Geneva. Some of my most favorite moments have been doing the things that a normal high school would never do. Some of the most random and spontaneous things have been the most memorable.