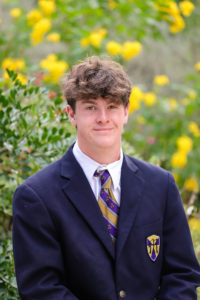 What is the most influential book you have read besides the Bible? Why?
The most influential book I've read besides the Bible is Can't Hurt Me by David Goggins. Goggins portrays, through real life examples, the raw perseverance humans can have. This book taught me a wide variety of things I utilize in my life.
What is your favorite or funniest moment at Geneva?
Although I have a lot of funny moments in mind, the most recent funniest moment at Geneva was when Mr. Russell absolutely annihilated me playing basketball in front of everyone at lunch.
What will you miss most when you leave Geneva?
I miss how kind everyone is around campus. It is such a good learning environment to be a part of.
Who has influenced you most while at Geneva, How?
It is hard to say who has influenced me the most; however, one of the people would be Coach Champion. He has so much passion and love for his job and is such an awesome coach.
What does being a Geneva student mean to you?
Being a Geneva student means being able to receive amazing education in a God-loving, comfortable, and fun environment.
How would you encourage a Geneva kindergartner to persevere?
I would encourage any kindergarteners to simply have your priorities in mind. Although it is hard sometimes to keep up with school and sports it is very much an important building block to your future life.
What about Geneva do you hope never changes?
I hope Geneva never becomes a dull place. It is filled with such energy and enthusiasm. It's awesome!