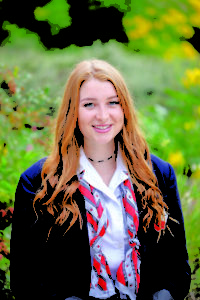 What is the most influential book you have read besides the Bible? Why?
The most influential book I've read is Silence by Shusaku Endo. This book taught me the importance of staying true to my faith even during times of struggle.
What is your favorite or funniest moment at Geneva?
My funniest/favorite moment at Geneva was during the TSD football game, my junior year. One of the opposing players got hurt in the game and when he got up and play resumed, Haley called the cheer "Hit 'em Hard." Everyone started freaking out at the off-timing of our cheer. It wasn't funny then, but it's funny now.
What will you miss most when you leave Geneva?
The thing I will miss the most about Geneva is the environment and the community. I will miss how close my grade has become with one another.
Who has influenced you most while at Geneva? How?
The person at Geneva who has influenced me the most is Coach Jonas. I have gotten to work with her since seventh grade. She has taught me how to be humble and gracious while being strong and fearless.
What does being a Geneva student mean to you?
Being a Geneva student means working hard to meet my goals and being dedicated to achieving them.
How would you encourage a Geneva kindergartner to persevere in school?
I would encourage the kindergartners to make friends. Not just any friends, but ones that will push them to work hard and help hold them accountable for their actions and choices.
If you could change anything at Geneva, what would it be?
I hope that the student- teacher relationships never change. I love the way that the students feel welcome to ask questions and advice from the teachers.