What is the most influential book you have read besides the Bible? Why?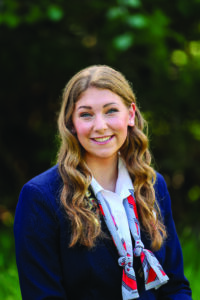 Don't Waste Your Life by John Piper is such a great resource! It's so convicting but inspiring. It's a great reminder we have a a great purpose on earth as believers to shine for our Savior and to use our life to benefit the cause of Christ, not ourselves.
What is your favorite or funniest moment at Geneva?
I was asked to help conduct interviews for incoming Cinema students and Mr. Harrild, Luke Pratt, Ally Turgeon, Hailey Hubenak, and Landon Grimes thought it was hilarious to prank me. They all pretended to interview Landon and were acting insane while I was trying to give him an actual interview. I was so confused but it was HILARIOUS!
What will you miss most when you leave Geneva?
Choir! I've learned so much from Mr. Vis and Miss Rocha over the years not just about singing, but on how to be an encouragement and Christ-like example to those around me. The choir has so many fun memories and we've conquered a lot of difficult challenges. It's been so beautiful to see the work we put in bring out the marvelousness of our Creator and how Christ uses music to touch the hearts of others.
Who has influenced you most while at Geneva? How?
Mr. Vis has influenced me the most. When I first joined choir as a freshman I had no intentions of singing solos or making my voice heard, but Mr. Vis encouraged and pushed me out of my comfort zone through his investment in his students and fire for Christ. I've learned not to sing for me but for the Lord. He has trained me and so many others to recognize the bigger picture of this life. I've learned from his teaching and example that God has equipped me with the ability to make music to glorify Him and touch the hearts of others so Christ will be seen.
What does being a Geneva student mean to you?
To me, a Geneva student does what's right and stands up for what they know to be true. The school invests so much Biblical truth into us that we have the strength and confidence to independently grow as Believers. We do hard things and aren't afraid of a challenge because we know Christ uses all our circumstances for His perfect plan for our lives.
How would you encourage a Geneva kindergartener to persevere in school?
Remember what matters! There are so many things out there to distract you from doing your best and the first few years of school are so foundational to shaping who you are and how you think for yourself.  Embrace the challenges of learning and use them to help grow your senses to see the beauty of creation God gives you!
What about Geneva do you hope never changes?
The student – teacher relationships. The teachers are so nurturing and have an evident desire to help us grow in maturity and the faith. The family feel of the campus is one of the things that sets Geneva apart and the teacher – student relationships are a huge part of it.