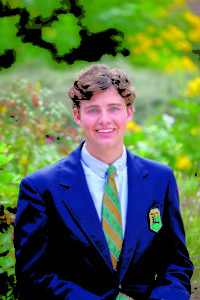 What is the most influential book you have read besides the Bible? Why?
One of the most influential books I've ever read is Silence because it illustrates God's sovereignty in a beautiful novel. Silence showed me that God's love and power never cease in the midst of the darkest moments.
What is your favorite or funniest moment at Geneva?
My favorite moment at Geneva has to be the senior trip. I loved walking through the streets of Florence with my friends, all the museums, and all the fun moments in between.
What will you miss most when you leave Geneva?
I'll miss the tight-knit community at Geneva the most. I love all the relationships I was able to build with other students and teachers because of the small community. I will also miss the time the Geneva staff invested in me.
Who has influenced you most while at Geneva? How?
Dr. Bracy influenced me most while at Geneva because of his daily encouragement he gave to me. His positive attitude and story pushed me to become a better man and a stronger Christ-follower.
What does being a Geneva student mean to you?
To me, being a Geneva student means being part of an incredible education that incorporates Christ into every aspect of the day.
How would you encourage a Geneva kindergartner to persevere in school?
I would say to put in the hard work because it will for sure all pay off in the end. Also, don't worry about the small stuff and have fun along the way.
If you could change anything at Geneva, what would it be?
I hope the ability to participate in multiple fine arts and athletics at Geneva never changes. It's special that we get to engage in so many different aspects of the community at Geneva.