What is the most influential book you have read besides the Bible? Why?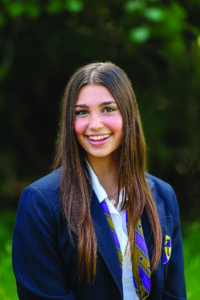 The most influential book I have read has been Mere Christianity by C. S. Lewis, because of how he presents Christianity in such a simple yet profound way.
What is your favorite or funniest moment at Geneva?
My favorite memory at Geneva would be induction day.What will you miss most when you leave Geneva?
I will miss the both competitive and encouraging atmosphere in both academics and in sports.
Who has influenced you most while at Geneva? How?
My soccer coach, Becky Doran, has influenced me the most at Geneva. While reminding us that we play to honor God, she is also both an incredibly caring coach, competitive, and pushes us towards our goals.
What does being a Geneva student mean to you?
Being a Geneva student means honoring God by striving for excellence in all that you do.
How would you encourage a Geneva kindergartener to persevere in school?
I would encourage a Geneva kindergartner to be diligent in school but also to enjoy every step and not to be anxious about the future.
What about Geneva do you hope never changes?
I hope that the teachers' care for the students and the Geneva culture never changes.