What is the most influential book you have read besides the Bible? Why?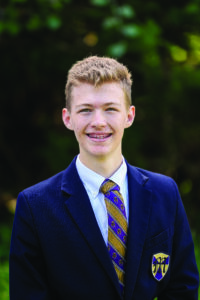 The Art of War was the most influential book I have read besides the Bible as it teaches you to think out side of the normal spectrum you would think in as well as gives you good long lasting life advice.
What is your favorite or funniest moment at Geneva?
One of the funniest moments had to be when Mrs. Greenlees tripped over the bale of hay.
What will you miss most when you leave Geneva?
I will miss the discussions we would have in literature and history with Mr. Johnson.
Who has influenced you most while at Geneva? How?
Mr. Naiser influenced me the most as he is always in a good mood and spreads it wherever he goes. I hope I can one day be half the man he is.
What does being a Geneva student mean to you?
Being a Geneva student means doing what's right in the name of God's glory.
How would you encourage a Geneva kindergartener to persevere in school?
I would say always help one another as a major part of this school is the community and I want to see it preserved.
What about Geneva do you hope never changes?
I hope the community and the sense of camaraderie never changes.