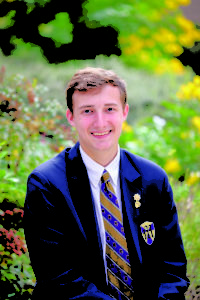 What is the most influential book you have read besides the Bible? Why?
Make Your Bed by Admiral William H. McRaven has been the most influential book for me. I read it first about two years ago and it made me realize to start doing little things. It made me start to do more with my life rather than slug around and go through the motions.
What is your favorite or funniest moment at Geneva?
My funniest moment at Geneva was when I received a detention for making toilet biscuits.
What will you miss most when you leave Geneva?
I will miss the conversations had during lunch.
Who has influenced you most while at Geneva? How?
Mr. Grover has influenced me the most here at Geneva. When everyone is rowdy or doing whatever they do Mr. Grover always seems to stay happy and upbeat.
That has definitely impacted me.
What does being a Geneva student mean to you?
Being a Geneva student means loving each other, even when you do the wrong thing.
How would you encourage a Geneva kindergartner to persevere in school?
I would want a kindergartner to know that you don't ever have to do any of life alone, because so many people care for you.
What about Geneva do you hope never changes?
I hope the love that is given here never changes.