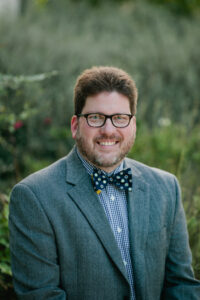 Geneva announces a new Rhetoric School Headmaster will lead its high school students, faculty and staff beginning this summer. Dirk Russell was asked to lead the Rhetoric School after longtime Rhetoric School Headmaster Rob Shelton announced his plans to leave Geneva after 14 years of service. Shelton came to Geneva in 2007 as the Logic School Headmaster with the charge to build a Rhetoric School curriculum, culture and community. Russell will continue to build on the strong foundation that Shelton established.
"It became clear that Dirk Russell was uniquely prepared to lead the Rhetoric School into a new era. He possesses a curious intellect, enjoys collaboration, yet most importantly, loves Geneva and everything it seeks to represent. I very much look forward to working with Dirk with high expectations as to how Geneva might continue to glorify Jesus Christ through the fulfillment of its mission," Incoming Head of School David Corbin said.
After joining Geneva in 2004 as a Logic School Bible and History teacher, Russell left to do full-time ministry for two years before returning in 2010 to teach full-time on the Rhetoric School faculty. He has served as the Academic Dean, Bible Department Head and the 12th Grade Bible and Humanities Instructor. He hosts Geneva's "Around the Table" podcast and has been the young men's leader of the Junior Class Trip to Europe.
Russell and his wife Aubrey of nearly 27 years have six children: Jonathan, David (GSB Class of 2017), Joshua (GSB Class of 2018), Isaac, Abigail (GSB Class of 2022) and Samuel. Russell has a B.A. in Pastoral Theology from Moody Bible Institute and is currently working toward a Master of Arts degree in Biblical Studies through the Reformed Theological Seminary.
"God's faithfulness has allowed and empowered us to do the work He called us to do. I am excited about the new challenges this position presents, but I am also convinced that God will provide what we need to move forward for His glory and the good of His kingdom," Russell said.